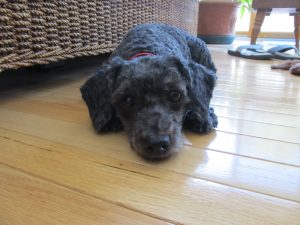 In April 2016, Charles Oropallo's mom, Arlene deSousa, was struggling in a nursing home in Tampa, Florida. She asked Charles if he would bring her 8 year old miniature poodle, Bonnie, to visit with him and his wife, Susan Oropallo.
So Bonnie went from two rooms in an assisted living facility to over ten rooms spread out over three floors. Susan and Charles were surprised to discover Bonnie actually did not know how to use stairs. This presented a problem with there being two full flights of stairs between the three floors she now had the run of.
It was very apparent for many, many months she missed Arlene very much. But ultimately, Bonnie became part of the Oropallo family. Now, Charles and Susan could not imagine Bonnie not being there with them.
As far as Susan and Charles Oropallo know, Bonnie had never been in the snow before. The winter season of 2016-2017 in Peterborough, New Hampshire was probably her very first as far as was known.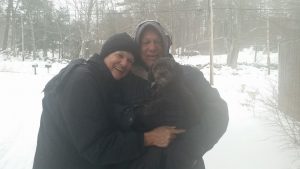 Very much to Susan and Charles Oropallo's surprise, it appears Bonnie really loves the snow. Go figure!
But then again, she doesn't have to clean it, plow it, snow-blow it, or otherwise have to deal with it in any fashion other than playing in it and walking through it. Her favorite past time in the snow is climbing up snowbanks.
What Bonnie seems to love the most is going for a ride in any of the Oropallo's cars – or anyone's for that matter. Short rides or long ones – Bonnie gets crazy excited when asked if she wants to go for a ride. Going out for walks is her next favorite thing to do. She has gotten way more exercise than she ever had since living with Susan and Charles Oropallo.