Bonnie loved to see people
Bonnie just loved everyone she met. From the time that Bonnie moved in with Susan and Charles Oropallo she took on the job of being the official CharlesWorks Greeter. No one came to the CharlesWorks office or visited Charles and Susan who wasn't greeted by Bonnie.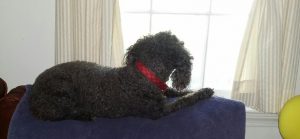 Bonnie took her job as the resident watchdog very seriously. She would always let Charles and Susan know when someone was at her home.
One of Bonnie's many favorite spots was the top of the couch's back that let her sit right in a window looking out toward the driveway and the street. She could often be found there in the morning just before people show up. She'd also jump up there and peek out the window if a car came into the driveway.
As each of the CharlesWorks staff came to work they would normally be greeted by Bonnie. She had a routine where she'd greet them when they came to work. When clients came to their appointments with CharlesWorks staff she'd greet them as well.
Bonnie really loved everyone.